路线
马尼拉 - 马奇林山 - 波利斯山 - 苏比克 - 达沃 - 比斯利格 - PICOP -
最佳时间
12月-5月
人数
1-8人。
报价
---
第一天 马尼拉 - 马奇林山
抵达马尼拉,随后一个小时车程前往马尼拉南面的马奇林山。如果时间允许,我们将在菲律宾大学校园观鸟。
夜宿马奇林山山脚的酒店。
International arrivals to Manila International Airport. Upon arrival in Manila, we transfer to a comfortable 20-seater mini-bus and proceed to Mt. Makiling, Laguna. Depending on our time of arrival, we may do an initial afternoon birding around the adjacent University of the Philippines Los Baños Campus to look for Lowland White-eye, Spotted and Barred Buttonquails, Barred and Buff-banded Rails, Philippine Coucal, Indigo-banded Kingfisher and if lucky, Plain Bush Hen. 
Day 2 马奇林山
Mt. Makiling, Laguna is an excellent birding site, an hour or so south of Manila. It is a very good introduction to birding in the Philippines. It features Luzon lowland endemics such as Philippine Falconet, Stripe-headed Rhabdornis, White-eared Brown-dove, Black-chinned Fruit-dove, Scale-feathered and Red-crested Malkohas, Spotted Wood Kingfishers, Luzon Tarictic Hornbill, White-browed Shama and Grey-backed Tailorbird, among others. It also features rare and uncommon birds such as the Luzon Bleeding-heart and the Ashy Ground Thrush. We will board a "jeepney,"a modified American military jeep in the early morning that will take us to the more birdy areas of the mountain. In the evenings and early mornings, we will look for endemic nocturnal birds like the Philippine Hawk-Owl and the Philippine Scops-Owl. Overnight at the SEARCA Residence Hotels.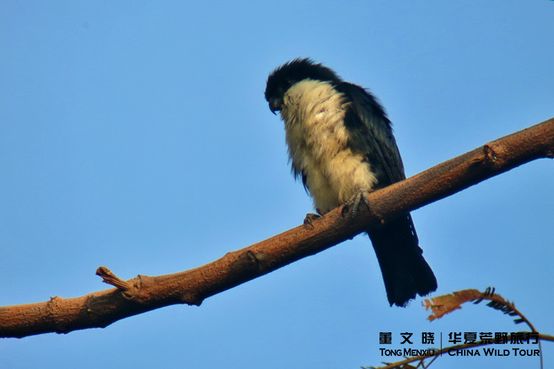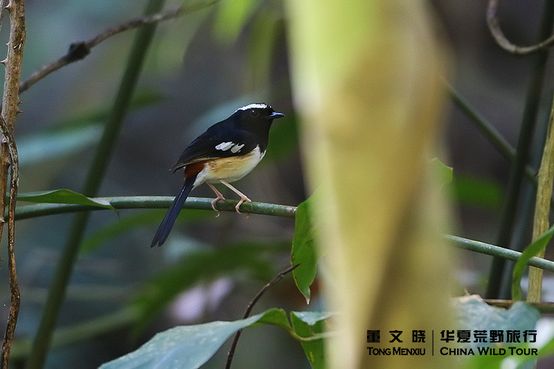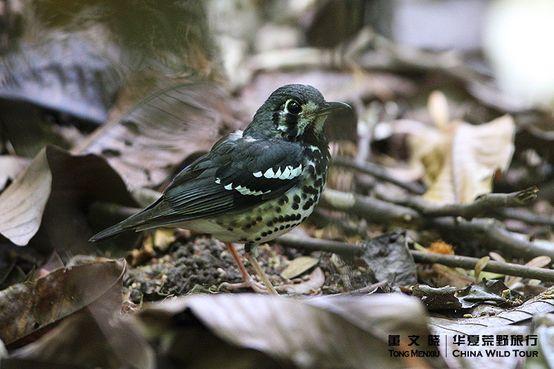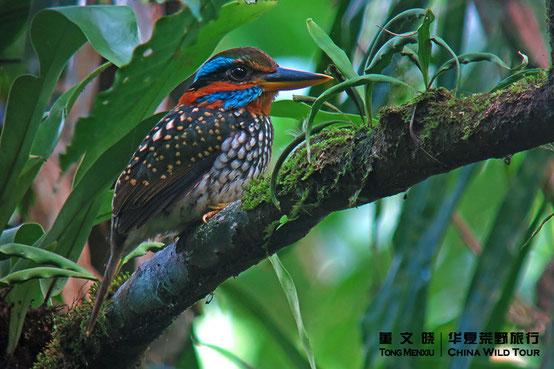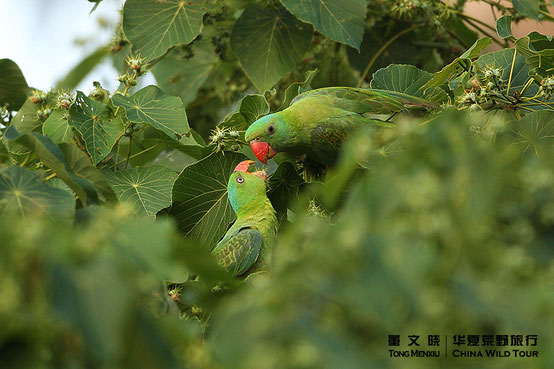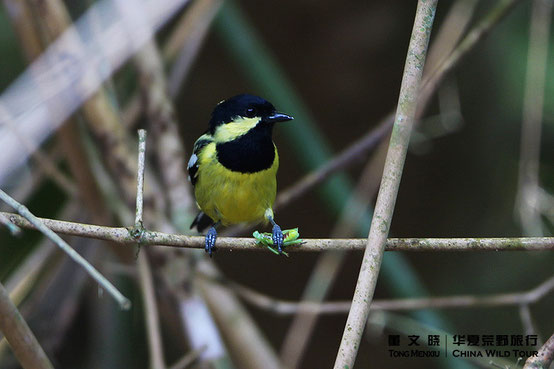 Day 3 马奇林山 -坎达巴镇沼泽 – 比尼
We will depart early and proceed north to Banaue. On the way, we will pass by Candaba Marsh, one of the remaining freshwater wetland close to Manila and a known wintering for migratory waterfowl. We will be looking for the endemic Philippine Duck as well as other wetland birds such as Purple Swamphen, Pheasant-tailed Jacana, Greater Painted-snipe, Yellow and Cinnamon Bittern among others. Lunch enroute. We will then have a long 7-8 hours drive to Banaue, our base for the next couple of days of Luzon montane birding. Overnight at the Banaue Hotel.
Days 4 – 5 波利斯山及周边
Early morning drive to Mt. Polis for two full days of birding. Although the montane mossy forests of Mt. Polis are rapidly disappearing, it is still home to some rare specialties of the Luzon montane forests such as the stunning Flame‐breasted Fruit Dove, Luzon Scops‐Owl, Whiskered Pitta and Benguet Bush Warbler. Mixed flocks should also produce Chestnut‐faced Babbler , Elegant Tit, Sulphur-billed Nuthatch, Blue-headed Fantail and if lucky Flame-crowned Flowerpecker. We will also be looking for Luzon Bush‐Warbler, Green‐backed Whistler, Luzon Water‐Redstart and the endemic Mountain Shrike. Overnight at theBanaue Hotel.
Day 6 比尼 – 苏比克
We will have depart in the morning and take on a 5-6 hours drive to Subic. Subic features several endemic species that are hard to see elsewhere in the Philippines. A former US naval base, it has good expanse of lowland forest. The target species here are RufousCoucal, Blackish Cuckoo-shrike, Green Racquet-tail and Philippine Tailorbird. Other rarities here include Yellow-breasted Fruit-dove, White-lored Oriole and White-fronted Tit. Philippine Serpent-Eagle and Philippine Hawk-Eagle are likely to be seen also in this excellent site. We will arrive in the afternoon, check-in at the hotel and go out for birding in the late afternoon. Overnight at the Mountain Woods Resort.


Day 7 苏比克 – 马尼拉
We will have a full day of birding in Subic. We will visit several sites that are good for other Luzon lowland species. We will be looking for Sooty Woodpecker, the Luzon form of Greater Flameback, White-eared Brown-dove, Green Imperial and Pompadour Green Pigeons, Guaiabero and Colasisi (small green parrots) as well as other Luzon specialties. In the afternoon, we drive back to Manila for an overnight stay.
Day 8 马尼拉-达沃-比斯利格
Today, we take the morning flight to Davao to start off our Mindanao leg. We will be flying for an hour and then transfer to comfortable mini-buses and travel for 4-5 hours towards the Bislig, Surigao on the eastern part of Mindanao. We will check in at Paper Country Inn and depending on the time of our arrival, we may have an afternoon birding in Bislig's non-operational air strip to look for Australasian Grass Owl, Philippine and Wandering Whistling Ducks.
Days 9-11 PICOP 造纸公司低地热带雨林区
We will have three full days birding in PICOP in search of Mindanao lowland endemics. Though the forest is rapidly disappearing due to illegal logging, PICOP still holds several Mindanao lowland specialties such as Writhed, Rufous and Mindanao Hornbills, Blue-capped, Rufous-lored and Silvery Kingfishers, Black-faced Coucal, Red-bellied and Steere's (Azure-breasted) Pitta, Celestial and Short-crested Monarchs. We will also be looking for a variety of birds such as Pygmy Babbler, Rusty-crowned Babbler, Rufous Paradise Flycatcher, Blue Fantail, Philippine Leaf Warbler, Philippine Oriole, Philippine Needletail among others. The few remaining patches of forests also host several species of the doves and pigeons such as Black-chinned Fruit-doves, Amethyst Brown-dove and Pink-bellied Imperial Pigeon. In the early mornings and evenings, we will look out for Mindanao Hawk-Owl, Chocolate Boobook, Philippine Frogmouth, Philippine and Great-eared Nightjars.
Day 12比斯利格 -奇坦兰山
We will have our final morning birding in PICOP to look for the species we are missing then we will transfer to comfortable mini-buses and travel for 7-9 hours to the small village of Damitan, in Northern Mindanao, our take-off point for Mt. Kitanglad Mountain Range.We will then board a 4 x 4 truck and travel for about 45 minutes and then proceed on foot or via horseback for 15 minutes to Del Monte Lodge, rustic and very basic accommodations at the foot of the Mt. Kitanglad. We will do a bit of birding in the camp looking for the more common Mindanao montane birds such as Elegant Tit, Sulphur-billed Nuthatch, Black and Cinnamon Fantail and Cinnamon Ibon. In the evenings, we will try to look for Bukidnon Woodcock, Philippine Frogmouth and if lucky, Giant Scops-owl.
Days 13-15 奇坦兰山
We will have three full days in Mt. Kitanglad to search for Mindanao montane endemics. Our main target will be the Great Philippine Eagle, one of the biggest raptors in the world. Other endemics that we will be looking for are the funky-looking Apo Mynah, Red-eared Parrotfinch, endemic flowerpeckers and sunbirds such as the Olive-capped Flowerpecker and Grey-hooded Sunbird, Black and Cinnamon Fantail, Cinnamon Ibon, Mindanao Ibon (or Black-masked White-eye), McGregors's Cuckoo-shrike and Yellow-bellied Whistler among others. On at least one day, we will be climbing up to 1800 meters to look for the high-elevation endemic Apo Sunbird.
Day 16 奇坦兰山 -卡加延-德奥罗 – 马尼拉
We will have our final morning birding around the lodge and travel back to Cagayan de Oro where we will take an afternoon flight back to Manila. Overnight in Manila.
Day 17 马尼拉 –公主港 -沙邦
We take a morning flight out of Manila to Puerto Princesa, Palawan. This island southwest of Luzon has 11 island endemics and other birds that are very similar to those from mainland Asia. Upon arrival, we will visit nearby beaches for the rare Chinese Egret and other wintering shorebirds. We then drive to Sabang, stopping at some sites in search of Palawan endemics. Later in the afternoon, we search for Palawan Scops Owl and Palawan Frogmouth. We stay at Daluyon Beach and Mountain Resort for 2 nights.
Day 18 公主港地下河国家公园
Today, we will ride a motorized outrigger boat and travel for 20 minutes to reach Princesa (St. Pauls) Underground River National Park. This park supports most of Palawan's specialties but we will be focusing on our main target here: the stunning Palawan Peacock Pheasant. Other birds present here include Tabon Scrubfowl, White-vented Shama, Stork-billed and Blue-eared Kingfishers, Palawan Blue Flycatcher, Lovely Sunbird, Palawan Hornbill and Blue-headed Racquet-tail. We return to Sabang for lunch and in the afternoon we will go out again for to look for other Palawan specialties.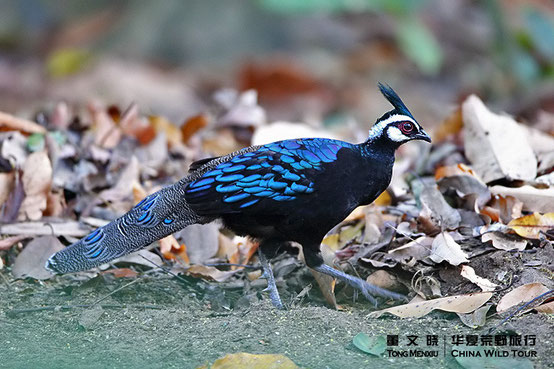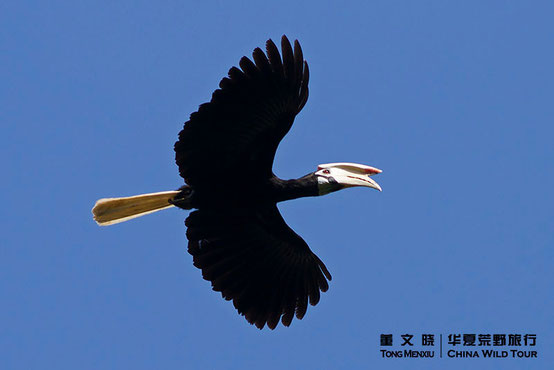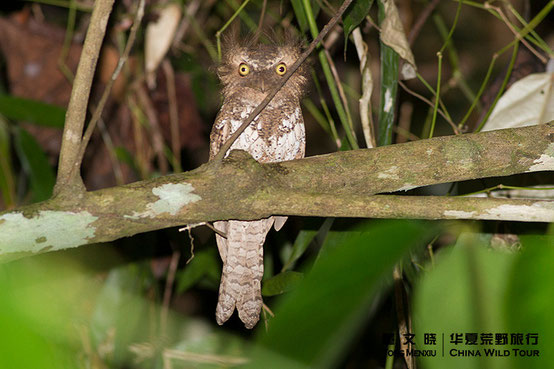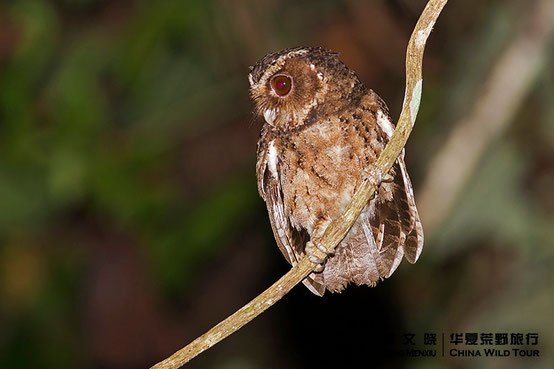 Day 19沙邦- 本田湾 – 公主港
We will have our final morning birding in Sabang and we will have several stops along the way for other Palawan birds like Palawan Tit, Fiery Minivet, Striped Flowerpecker, Asian Fairy Blue-bird, Grey-cheeked, Sulphur-bellied and Olive-winged Bulbuls , Dark-throated Oriole, etc. We will then transfer to a motorized outrigger boat and travel to one of the islands in Honda Bay, where we will be looking for Pied and Grey Imperial Pigeons, and if time-permits, Mantanani Scops Owl. Overnight at the Asturias Hotel, Puerto Princesa.
Day 20 巴尔萨汉小路 – 公主港- 马尼拉
We will depart early for Balsahan Trail, another lowland excellent site very near the city. This site features two Palawan endemics that are very difficult to find elsewhere: Melodious Babbler and Palawan Flycatcher. We will also be looking for other birds such as Yellow-throated Leafbird, Blue Paradise Flycatcher, Palawan Blue Flycatcher and Falcated Ground-Babbler. We return to the city then catch an afternoon flight back to Manila. Overnight in Manila.
Day 21 马尼拉离境
We will bring you to the airport where you will catch your international flights back to your home country. End of Tour.
---
---
Day 1 – Manila to Bohol.
We will have a morning flight to Tagbilaran, Bohol. Bohol is one of the small islands in the south central Philippines and contains several species similar to that of lowland Mindanao as well as species that can be only be seen on this small island. Bohol is famous for its Chocolate Hills, geologic formations that are shaped like Hershey's Kisses that turn to chocolate brown during the summer months.We do our initial birding in the afternoon at Rajah Sikatuna Protected Landscape. We will check in at Chocolate Hills Hotel.
Days2&3 – Rajah Sikatuna Protected Landscape.
We will be spending two full days inthis superb lowland park situated in the center of the island of Bohol. We will be looking for the Yellow-breasted Tailorbid, a very localized bird that is only found in Bohol and nearby islands. We will be going inside forest trails and we will be looking for Rufous-tailed Jungle Flycatcher, Blue Fantail, Philippine Trogon, Philippine Fairy Bluebird and the skulker Black-faced Coucal. We will also take time and effort to locate Steere's Pitta, one of the several colourful birds of the forest floor. If lucky, we might also see Visayan Wattled Broadbill, one of the specialties of the Park and Mindanao Bleeding-heart. In the early mornings, we will target Rufous-lored Kingfisher while the nearby forest streams might also produce Silvery Kingfisher. Overnight at the Chocolate Hills Hotel.
Day 4 – Bohol to Cebu to Mt. Kanlaon, Negros
We leave early morning to catch a fast craft ferry to nearby Cebu Island. From Cebu, we take a short flight to Bacolod, Negros and then we board mini-buses to take us to our accommodations in the foothills of Mt. Kanlaon. We will do a bit of afternoon birding around our accommodationsand look out for White-eared Brown-Dove, Red-bellied and Hooded Pittas, and the endemic Visayan Flowerpecker. Overnight in Tabucol, Negros.
Days 5& 6 – Mt. Kanlaon, Negros Occidental
We will leave early and board 4 x 4 SUVs to take us up Mt. Kanlaon. Mt. Kanlaon is one of the most active volcanoes in the Philippines and is home to most of Negros endemic specialties. We will travel by 4×4 SUV for about an hour to be able to reach suitable habitat of the stunning Flame-templed Babbler, White-winged Cuckoo-Shrike,Visayan Tarictic Hornbill,Negros forms of Blue-headed Fantail, Balicassiao and White-browed Shama, White-vented Whistler, Pink-bellied Imperial Pigeon. We also have a chance with Citrine Canary Flycatcher, Philippine Oriole and if lucky Negros Bleeding Heart. We will have two full days to look for these Negros specialties. Overnight in Tabucol, Negros.
Day 7 – Tabucol, Negros to Bacolod to Manila to International flights
We will have our last morning birding around our accommodations before boarding a morning flight to Manila. We will then drop you off at the international departure terminal to catch your flight to your respective home countries. End of Tour.
---
---
---
---
---
---