MAIN TOUR:
Guangzhou – Jiulianshan NNR – Nanling Forest Park – Jianfengling Forest Park – Chongzuo Eco Park – Nonggang NNR –– Nanning – Guangzhou
EXTENSION TOUR:
Nanning - Dayaoshan NNR - Guilin
BEST TIME:
January– June, October - December
TOUR PRICE:
Please contact us for the latest tour price.

---
Day 1 Guangzhou –  Jiulianshan NNR
Arrival Guangzhou, then 4 hours driving to Jiulianshan NNR. If arrive early we will search Blyth's Kingfisher along the river, and wait for White-eared Night Heron in the dark.
Overnight at Jiulianshan NNR.
Day 2 Jiulianshan NNR
Full day birding in Jiulianshan NNR search Chinese Barbet, Fairy Pitta, Bay Woodpecker, Crested Kingfisher, Slaty-legged Crake, Grey-sided Scimitar Babbler, and buntings.
Day 3 Jiulianshan NNR  Nanling Forest Park
The last morning birding in Jiulianshan NNR, searching our miss birds. Then we will 5 hours driving to the Nanling Forest Park.
Overnight at Nanling Forest Park.
Day 4-6 Nanling Forest Park
We will spend three day in Nanling Forest Park to search Cabot's Tragopan, White-necklaced Partridge, Silver Oriole, Brown-chested Jungle Flycatcher, Red-tailed Laughingthrush, Grey Laughingthrush, Spotted and Little Forktail, Chinese Barbet, Grey-chined Winivet, Brown Dipper, Hartert's Leaf Warbler and Grey-sided Scimitar Babbler etc.
Day 7 Nanling Forest Park – Jianfengling Forest Park
After early morning birding in Nanling Forest Park, we will 3 hours drive back to Guangzhou International Airport to catch flight to Sanya. Then 2 hours drive to Jianfengling Forest Park and overnight.
Day 8-10 Jianfengling Forest Park
We'll spend three days in Jianfengling Forest Park to search all endangered species, such as Hainan Partridge and Hainan Peacock Pheasant, Chinese Barbet, Blue-bearded Bee-eater, Mountain Scops Owl, Mountain Imperial Pigeon, Silver-breasted Broadbill, White-winged Magpie, Ratchet-tailed Treepie, Short-tailed Magpie, Hainan Pale and Blue Flycatcher, Yellow-billed Nuthatch, Hainan Leaf Warbler, Rufous-cheeked Laughingthrush, Black-throated Laughingthrush monachus spp., Eyebrowed Wren Babbler. If we lucky, we may be find Oriental Bay Owl, Japanese Robin and Blue-rumped Pitta in the rainyforest.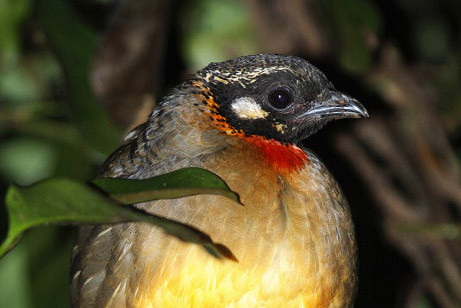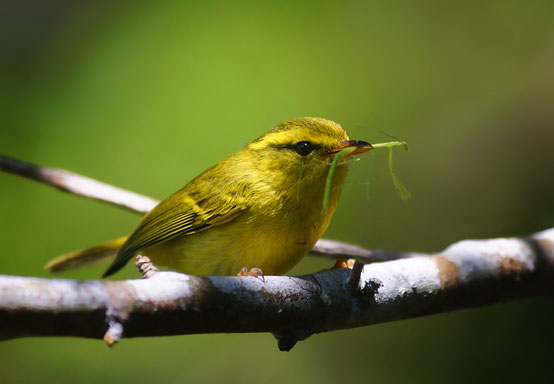 Hainan Leaf Warbler  /  Masic Song

Day 11 Jianfengling Forest Park  –  Chongzuo Eco Park –   Longzhou
After few hours birding in JIanfengling Forest Park, we drive back to Sanya airport for lunch. After Lunch, 1 hours flight to Naning, then 2 hours driving to Chongzuo Eco Park to find White-headed Langur, Pale-footed Bush-Warbler, Crimson Sunbird, Chestnut-capped Babbler etc. Evening in Longzhou.
Day 12 – 13  Longzhou –  Nonggang NNR
Two full days birding in Nonggang to search Nonggang Babbler, Bar-backed Partridge, Drongo Cuckoo, Jerdon's Baza, White-winged Magpie, Hainan Blue Flycatcher, Rufescent Prinia, Limestone Leaf Warbler, Large Scimitar Babbler, Streaked Wren Babbler, Buff-breasted Babbler etc.


Day 14 Longzhou –  Nonggang NNR –  Naning –  Guangzhou
After the last morning birding in Nonggang NNR, we drive back to Naning airport to catch flight back to Guangzhou.
Tour end.
---
Day 1 Nanning - Dayaoshan NNR
Afternoon arrive Nanning, then 6 hours drive to Dayaoshan NNR and overnight.
Day 2-4 Dayaoshan NNR
We will stay in Dayaoshan NNR for 3 days to search Temminck's Tragopan, Golden Pheasant, Koklass Pheasant, Chinese Barbet sini spp.,Yellow-browed Tit, Mountain Tailorbird, Yellowish-bellied Bush Warbler, Grey-bellied Tesia, Kloss's Leaf Warbler and Blyth's Leaf Warblerm, Blunt-winged Warbler, Golden-fronted and Golden-breasted Fulvetta, Spotted,Rufous and Red-tailed Laughingthrush, Golden Parrotbill, Brown-chested Jungle Flycatcher.
Day 5 Dayaoshan NNR  – Guilin
4 hours driving back to Guilin airport to catch the flight back to Guangzhou. Tour End.